Thika-based Mount Kenya University (MKU) hosted a major seminar dubbed the Third Access Summer School 2023 for a consortium of seven international universities.
With more than 1,000 participants, the blended conference was officially opened on Monday May 22 by MKU Vice Chancellor, Professor Deogratius Jaganyi and ended on May 26 in Thika town. Previous Summer Schools were held in Ghana and Benin.
The Summer School is exploring issues around the topic "Beyond Classroom Experience in the Lenses of University–Industry Interaction" and includes practical experience sharing, curriculum development discourse and interactive sessions among the participants, industry partners and government.
Prof. Dickson Andala, the National Research Fund (NRF) Chief Executive Officer and Chief Guest at the conference said the four pillars of Access – Capacity Building, University Business Linkage, Employability Research and Entrepreneurship Academy have key strategic orientation towards addressing Kenya's current unemployment among university students.
He challenged the participants to work to seek the support of innovation hubs, and start-ups to promote impact-based training opportunities.
"We all understand that the digital economy has numerous flexible opportunities for delivering such training opportunities. At times, hybrid models of training ensure that both theoretical and practical concepts are intertwined," he said.
Professor Andala tipped postgraduate students to seek the numerous opportunities for scholarships available under the ACCESS programme so as to afford them exposure to cultures and skills necessary to function in the modern labour market.
"I am aware of the numerous opportunities for funded training not just for faculty but also for students, especially by DAAD, Erasmus+, BMZ and EURAXESS among others," he said.
Appreciating the industries represented at the meeting, Andala said that it is by strengthening relationships between universities and industry cooperation and knowledge exchange between stakeholders can be expanded, thus growing new professional opportunities for African students as envisaged in the programme.
The CEO said research should be geared towards impact-based solutions and challenged Kenyan institutions of higher learning to support NRF initiatives in promoting research.
"NRF plays a critical role in supporting competitive applications for research focused on our current national research priorities," he added.
He congratulated MKU for supporting its faculties in research under the Vice-Chancellors, Research and Innovation grant, but challenged the university to explore more opportunities for research with NRF and funding agencies that are continuously releasing calls for research activities.
Prof. Andala also urged innovation hubs to reach out to universities and explore ways of partnerships. "No government in the world will ever meet all the employment needs of its citizens. As a result, entrepreneurship academies such as MKU Graduate Enterprise Academy should continuously innovate its approaches to funding lines and partnerships as a way of promoting sustainable strategies," he said, advising  local institutions such as Riara University  and Technical University of Kenya to deepen their ties and reduce on bureaucracies if meaningful engagements are to be realized.
During the opening meeting, Professor Deogratius Jaganyi said ACCESS is a strong network initiated by the University of Leipzig and the six African partner universities in 2020 to identify and develop new approaches to the labor market needs in Africa. Plans are underway to roll out the network's ideas to other 30 universities by 2024.
"The number of African university graduates will continue to rise in the coming years and as partners, we must work together by bringing our different diversities to work, so that we can offer our young talents a professional future of their own," he said.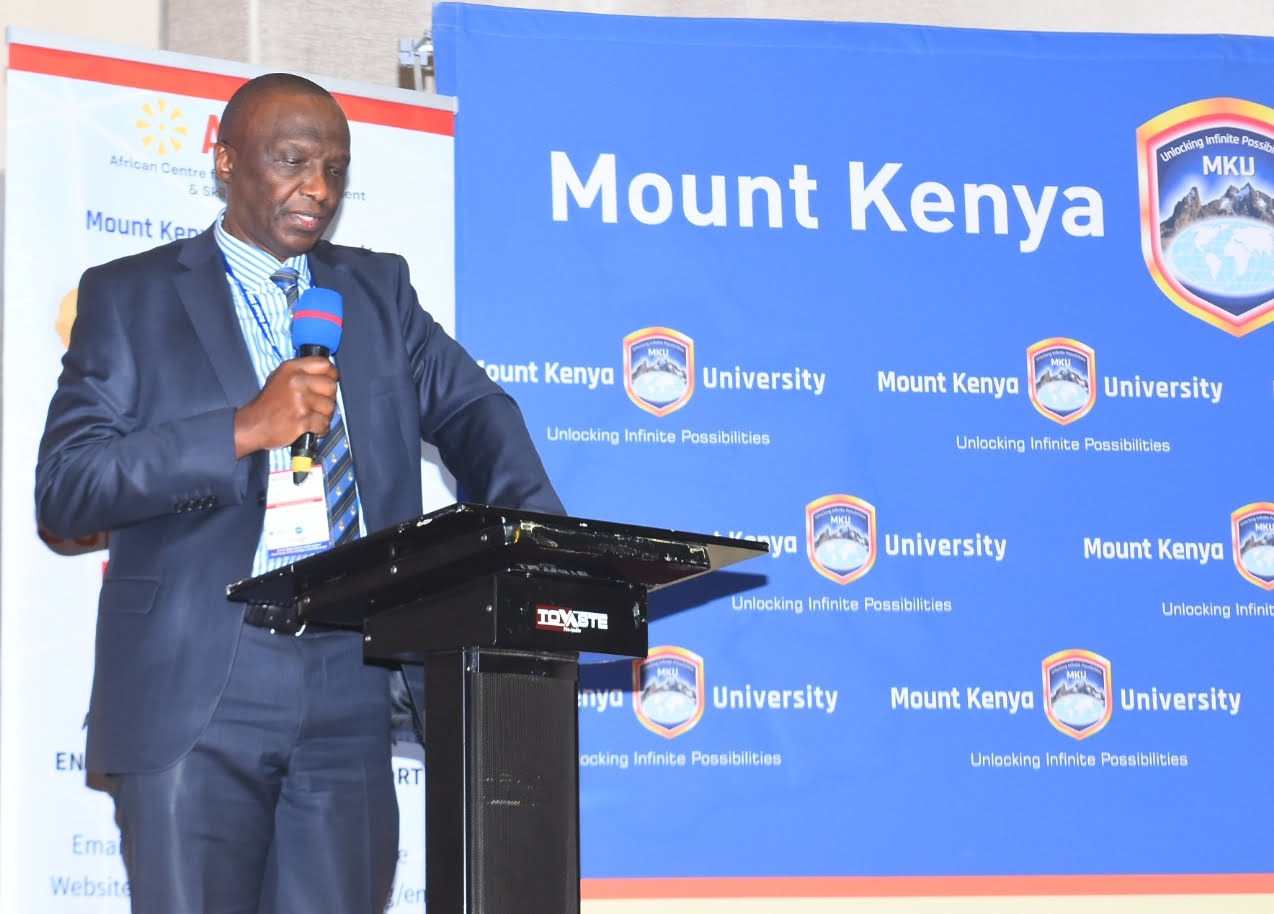 The VC said MKU has established a Graduate Centre for Career Enhancement and Skill Support (GECCESS) to foster the service-learning strategy with the industries represented at the conference.
"This is an offshoot unit of the Kenya Access Team, led by the Coordinator, and summer school chair, Dr. Henry Yatich," he said.
MKU is following up on the industry engagements to ensure a robust synergy that can lead to progressive improvement in our curriculum offering and quality of its graduates.
"Some of the initiatives that MKU has launched recently include the MKU Innovation and Incubation Centre, which has seen the identification and selection of seven innovative ideas ready for acceleration and commercialization with support from innovation hubs and start-ups," said the VC.
MKU is meanwhile the trainer for nursing opportunities in Germany.
"I believe ACCESS will go beyond its scope and identify new teaching methods by infusing innovation into its mandate to strengthen the employability of African students. I challenge the participants to explore and examine the sustainability of ACCESS even beyond its funding period, so as to promote sustained opportunities among African Students in the global labour market," he said.
At the sidelines of the summer school, Dr. Yatich noted that it is high time for higher education institutions and industry to be co-creators in fostering innovative solutions to university-industry linkages.
Access is a 3.7 million Euro (Ksh550 Million) project promoted by Germany's Academic Exchange Service (DAAD) under the Exceed Initiative, with funding from the Federal Ministry for Economic Cooperation and Development (BMZ).
The project is implemented under a consortium of six African universities and coordinated by Leipzig University of Germany. The six institutions are based in Benin, Ghana, Kenya, Nigeria, Rwanda and Tunisia. It runs from 2020 to 2024, with possibilities of extension.
Apart from MKU and Leipzig University of Germany, others are IRGIB Africa University of Benin, Kwame Nkrumah University of Science and Technology (Ghana), University of Ibadan (Nigeria),Institut d'Enseignement Superieur (INES) de Ruhengeri (Rwanda) and the University of Tunis, Tunisia.
By James Wakahiu
Get more stories from our website: Education News
You can also follow our social media pages on Twitter: Education News KE  and Facebook: Education News Newspaper for timely updates.
Hits: 65