Street children at Makutano town were a happy bunch on Saturday after 50 Nasokol Girl's Secondary School Girl guides visited them armed with goodies.
The street children were assembled at Chelanga Garden where they were educated and warned against drug abuse.
The patrol leader Joan Chebiwott told Education News that they each contributed cash from their mercy kitty account, bought some t-shirts and loaves of bread and milk to express their charity to the children.
Each child was called forward with the drug they use, where they were sensitized and the drug destroyed before being handed a t-shirt, bread and milk..
"I am advising you to maintain good grooming all the time in order to maintain good health. Cut your nails, brush your teeth, shave your hair and wash your body to avoid diseases," said the matron, Madam Jacklyne Anyika.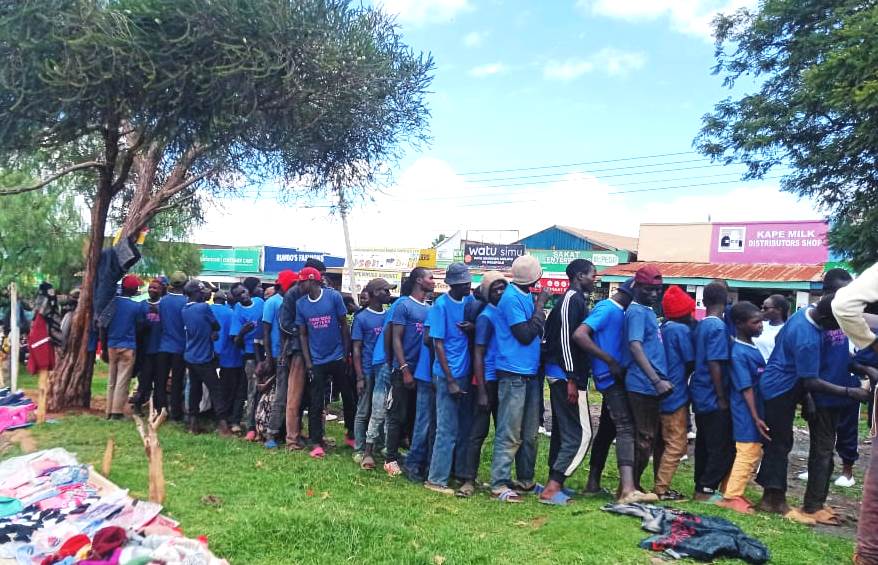 Anyika said that the Scouts were ready to participate in the tree-planting occasion to be held in the county schools soon.
Other teachers present included; Madam Victoria Nyapela, Madam Lydia cheminingwa and Madam Jacklyne Chepkemoi.
Chebiwott and Anyika appreciated the school principal Madam Susan Kiplagat Obiri for fully supporting the Scouts and their activities.
By Martin Ruto

Get more stories from our website: Education News
You can also follow our social media pages on Twitter: Education News KE  and Facebook: Education News Newspaper for timely updates.
Hits: 44