The Kenya Ports Authority (KPA) will fully sponsor secondary and higher education for 2 students from Taita Taveta County with another one securing a spot to join Bandari Youth Football Club.
The three talented youth were identified by KPA and coaches from Bandari Football Club (FC) during the county 2023 Football Mini-league on Saturday at Moi Stadium in Voi, sponsored by KPA in their intensified move to identify and nurture talents in the region.
The two boys will join Shimba Hills High School in Kwale for their secondary education.
Raila Sila, who after finishing his primary education could not join secondary school due to financial constraints, was identified as a talented footballer and was granted the sponsorship to proceed with secondary education as he trains with Bandari FC.
"I am extremely happy today. It is true I could not manage to join secondary due to financial challenges and I decided to play football. I didn't know that one day I could be here. I want to thank my coach for believing in me and giving me a chance to play for my team, from where I've been picked to continue with my studies and develop my football career further," said Sila.
Suleiman Hamisi, a form three student from Kivalu Secondary School will also join Shimba Hills and continue with his football career under Bandari FC.
Athman Mathius Atibu will join Bandari Youth after emerging as an outstanding player in this year's mini-league.
In the 2022 mini-league, KPA took two boys under education sponsorship at Serani Boys Secondary School in Mombasa and one youth secured a place to join Bandari Youth Football Club.
Speaking after the final match, on behalf of KPA Managing Director Captain William Ruto, Dr. Sudi Amani lauded the teams for their cooperation throughout the league noting that  the organization is ready to support and nurture more talents.
"As the Ports Authority, we have seen the importance of nurturing talents. We as an organization will continue supporting our youths and nurturing talents in partnership with the county government," said Amani.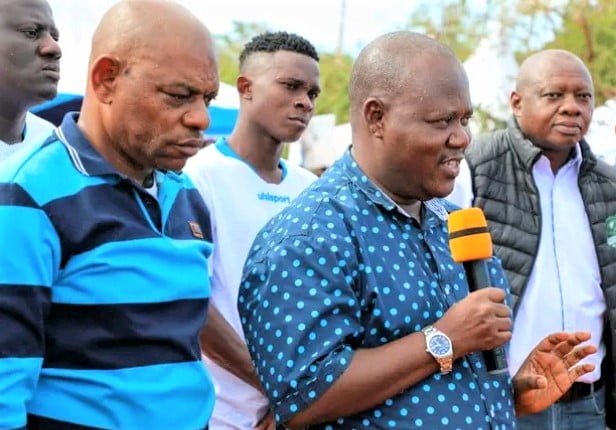 KPA fully sponsored 32 teams who participated in this year's mini-league at a tune of Ksh10.2 million with the winning team walking away with a Ksh200,000 grand prize, a trophy and gold medal.
The first runners-up got Ksh100,000, a trophy and a silver medal while the 3rd winner got Ksh60,000 and a bronze medal and the 4th team got Ksh40,000.
Taita Taveta County Football Association chairperson Erickson Kyongo stated that the KPA sponsorships have helped a great deal to nurture talents.
"Our objective is to identify, nurture and expose talents which at the moment is being fulfilled as it can be evidently with our youth joining national teams like Bandari to play in the national league," he said.
Taita Taveta Governor Andrew Mwadime urged the youth to shun drugs and other vices and instead take part in sport activities where they will be engaged and also expose talents that can be tapped and earn them a living.
"Recently, our youth were almost getting involved in the LGBTQ movement. Even though it could not succeed, it is very dangerous for youth to be idle. Such activities like sports are the only remedy to such vices," said the Governor.
He added that since there are no industries in the county where youth can be absorbed and get busy, his government will ensure development of sports infrastructure to facilitate sporting activities and nurturing talents in the county.
By Michael Oduor
Get more stories from our website: Education News
You can also follow our social media pages on Twitter: Education News KE  and Facebook: Education News Newspaper for timely updates.
Hits: 64