The president of the Lacrosse game Cosmas Stephen Nabungolo who is also the principal of St Joseph's boys Kitale has called on the Ministry of Education to include the game in the schedule of school games in this country.
Speaking at the launch of the game at St Joseph's Boys Kitale High School and St Joseph's Girls Kitale High School, he said that the game continues to penetrate all corners of the country with the love of many.
He said that what attracts many to like the game is discipline, it does not have many things like hurting each other.
The president said that the game should be included in school sports next year for the first or second-term ball games, term one-ball games, or term-two-ball games.
Praising the game, Nabongolo said there are already several centers in the country, mentioning St. Peters Mumias Center in the western region, and St. Joseph's Boys and Girls Center in the Rift Valley.
The game is for boys and girls.
"This is a game that started in foreign countries such as America and has already entered the country at Moi Girls Nangili High School in Kakamega County, St Peters Mumias, Sulumeti Girls Kakamega and now St Joseph's Boys and Girls in Trans-Nzoia County have started," he said.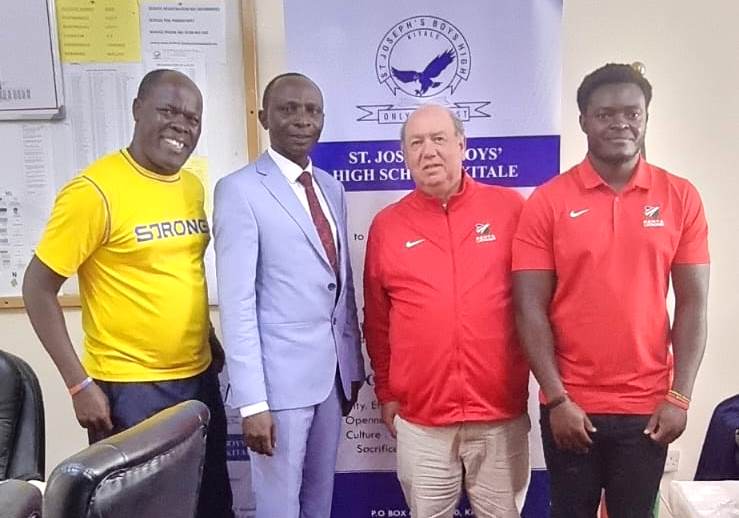 He said that there is already a national team under coach Peter Getegar who is preparing the national team to go to Canada for the competition of the game with the hope that the team will do well.
He called on the clubs to start the game saying those who know it know the beauty of the game and it attracts many young people.
He said those who want to learn the game at the academy are St Joseph's Kitale and St Peters Mumias.
President Nabungolo was accompanied by the head coach of the national team and other officials during the launch.
Get more stories from our website: Education News 
To write to us or offer feedback, you can reach us through: editor@educationnews.co.ke
You can also follow our social media pages on Twitter: Education News KE  and Facebook: Education News Newspaper for timely updates.
Hits: 16